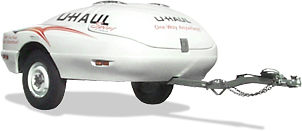 A sport trailer rental is great for the on-the-go type of person. The perfect moving trailer rental for towing sporting goods, camping and hiking gear or just great for packing up some tools for the job at hand. This small trailer has an aerodynamic shape that makes it very fuel-efficient and easy to tow behind any vehicle. On average, the sport trailer can load about three times what you can fit in the trunk of a midsize car.
Aerodynamic
Easy to tow
Fuel efficient
U-Haul sport trailers are equipped with front and rear access doors allowing a loading capacity of more than 950 lbs and it up to 45 cubic feet of storage space! The dual entry doors make loading the sport trailer very easy for even a novice packer.
Our sport trailers are fabricated in high temperature production of ABS plastic and weigh around 535 lbs empty. Its aerodynamic design makes it a low profile tow, which assists the driver with minimal wind resistance while maximizing the driver's visibility on the road. Rent sport trailers from U-Haul for your next outing.
Save time by reserving and scheduling your sport utility trailer rental online today. We put safety first, so all trailer customers are advised to load the trailer heavier in front, drive slower than you normally would, and please, always wear your seatbelt.
Dimensions
Inside dimensions: 6′ x 3'9″ (LxW)
Door opening: 3'1″ x 3'5″ (WxH)
Features
Towable by any vehicle
Fuel-efficient shape
Front and rear access doors
Capacity
Volume: Up to 45 cu. ft.
Max load: 965 lbs.
Gross vehicle weight: 1,500 lbs. max.
Empty weight: 535 lbs.
Towing vehicle requirements
Must be equipped with a hard top if it is an SUV or Jeep. U-Haul does not allow any type of sport-utility vehicle not equipped with a hard top to tow U-Haul equipment.
Tow vehicle and trailer lighting must be operational at all times, day and night. All U-Haul trailers and towing are wired with a 4-way flat light connector.
The curb weight of your tow vehicle must exceed the weight of the loaded trailer.
In order to tow, your vehicle must be equipped with an adequate hitch system and lighting connections. Your hitch system includes the receiver hitch, ball mount and ball. The overall rating is determined by the lowest rated component of the three. How to determine your hitch system rating.
Must have 1-7/8″ or, 2″ hitch ball (2,000 lbs. minimum)
Must not exceed maximum allowable hitch ball height 25″
Must have external mirrors on both sides
The allowed cargo in this trailer will be calculated based on the curb weight of your vehicle and the lowest rated component of your hitch system.
Maximum recommended speed is 55 MPH
Load trailers heavier in front.
Reduce normal driving speed.
Wear a seatbelt.
All rental truck and trailer measurements are approximate. The equipment you receive may vary in size, based on the engineering/design specifications of multiple-production models.