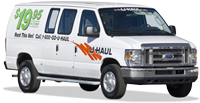 Rent a cargo van today starting at just 19.95 a day! (Extended miles, week long and month long rental rates also available) Cargo vans are perfect for students moving to college, studio apartments moves and smaller local deliveries. Renting a cargo van is a cost-effective solution to moving and transporting small loads.
Cargo vans are perfect for:
College student dorms
Studios and small apartments
Small loads and deliveries
U-Haul cargo vans are also popular with students who are moving into dorms or apartments for college, one way cargo van rentals are available in some locations. Rent a cargo van to move studio or smaller apartments, you will find that the cargo van rental is very fuel efficient when making an in-town move. With only a few short trips, many are able to load their belongings and transport them to their destination location. Rent a cargo van today starting at just $19.95.
A cargo van rental is a great low-cost solution for both businesses and individuals who need to transport items within city limits. Our moving vans are also a familiar choice for businesses that require picking up supplies, shipments or even making local equipment and product deliveries. For local and in-town moves, all cargo vans have rub rails and tie downs, and can transport more than 3,500 lbs! Reserve a moving cargo van rental today!
Dimensions
Inside dimensions: 9'2″ x 5'7-1/2″ x 4'5″ (LxWxH)
Back door opening: 4'6″ x 4'1″ (WxH)
Outside vehicle height 7′ 0″
Features
Seats for 2 adults
Automatic transmission
Air conditioning
Gentle-Ride suspension
Fuel-efficient V-8
SRS/air bags
Tie downs
Rub rails
Holds queen size mattress
Capacity
Volume: 236 cu. ft.
Max load: 3,673 lbs.
Gross vehicle weight: 8,900 lbs. max.
Empty weight: 5,227 lbs.
Fuel
Unleaded fuel
Fuel tank capacity: 35 gal.
Miles per gallon: 16 mpg
All rental truck and trailer measurements are approximate. The equipment you receive may vary in size, based on the engineering/design specifications of multiple-production models.
The miles per gallon calculations are estimations for ideal driving circumstances. Many conditions can affect this number, including driving with a load, road grades, weather conditions and vehicle speed.