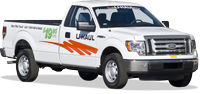 U-Haul is home of the $19.95 pickup truck rental! (Extended miles, week long and month long rental rates also available) Rent a pickup truck for any of your personal or business needs, our pickup trucks are also great for local deliveries. Pickup truck rentals are commonly used for home improvement projects, self-deliveries and other small loads. Rent a U-Haul pickup truck starting at just 19.95! (Extended miles, week and month long rates also available)
U-Haul pickup truck rentals are perfect for:
Home improvement
Deliveries
Small loads
Tow your boat
Millions of people rent pickup trucks from U-Haul every day for a wide range of purposes. Pickup trucks are perfect for those who own smaller vehicles who need to move items from one place to another. Many people rent pickup trucks to help with home improvement projects, such as hauling materials home to finish the project. U-Haul pickup trucks are used to haul landscaping brush, leaves, trees and grass to designated unloading locations.
Pickup truck rentals are also popular with local businesses that don't want the added expense of owning a pickup and just need the truck for maybe a week or two here and there. Businesses rent pickups as a replacement vehicle when their vehicle is in the shop. Also, students going to city colleges often rent pickup trucks and cargo vans to move their belongings into their dorms and apartments. Our pickup truck rentals are equipped with gentle ride suspension, SRS air bags and can load more than 1,500 lbs! Other truck rental companies just don't compare!
Dimensions
Bed inside dimensions: 8'1-1/2″ x 5'1″ x 1'8″ (LxWxH)
Outside vehicle height 6′ 3″
Features
Automatic transmission
Air conditioning
Gentle-Ride suspension
Fuel-efficient V-8
SRS/air bags
Capacity
Volume: 75.5 cu. ft.
Max load: 1,530 lbs.
Gross vehicle weight: 6,400 lbs. max.
Empty weight: 4,870 lbs.
Towing capacity: Up to 5,500 lbs.
Fuel
Unleaded fuel
Fuel tank capacity: 26 gal.
Miles per gallon: 19 mpg
All rental truck and trailer measurements are approximate. The equipment you receive may vary in size, based on the engineering/design specifications of multiple-production models.
The miles per gallon calculations are estimations for ideal driving circumstances. Many conditions can affect this number, including driving with a load, road grades, weather conditions and vehicle speed.