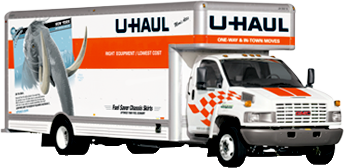 Bigger families moving both in-town and one-way generally choose 26ft moving truck rentals as they are perfect for 4+ bedroom moves. You can rent the Jumbo Hauler® moving truck with your valid driver's license, no CDL required.*
The 26ft moving truck rental is perfect for:
4+ bedroom houses
Long-distance one way moves
In-Town moves (move in one trip)
Larger families moving either one-way or locally generally choose 26ft moving trucks as they are perfect for 4+ bedroom moves. You can rent the Jumbo Hauler® moving truck with your valid driver's license; no CDL is required. *
Our largest trucks for rent, 26ft trucks are the best option if you are moving a 4+ bedroom house. The 26ft moving truck for rent comes standard with a fuel economy gauge that maximizes fuel efficiency, a driver's side airbag and patented dual mirrors for better vision while driving and backing up. A few more notable features of the moving truck rental are the disc brakes, gentle-ride suspension and comfortable van-like cab seating for three adults.
The 26ft truck rental is designed to transport large loads and also has a trailer hitch hookup giving the ability to tow a trailer. It has 1,611 cubic feet loading capacity, reaching almost 7,500 lbs, and not including if you tow a trailer behind! U-Haul moving trucks have low loading decks making them 50 percent easier to load over other truck rental companies.
*Commercial Drivers License (CDL) is required in Quebec, Canada to rent our 26 foot Jumbo Hauler rental truck.
Dimensions
Inside dimensions: 26'5″ x 7'8″ x 8'3″ (LxWxH)
Mom's Attic: 3′ x 7'8″ x 3′ 1″ (LxWxH)
Deck height: 2′ 9″
Door opening: 7'3″ x 6'10" (WxH)
Loading ramp width: 2′ 7″
Features
Fuel economy gauge maximizes fuel efficiency
Cheaper, cleaner and more convenient unleaded fuel
Driver's side air bag standard in all trucks
Seats for 3 adults
Automatic transmission
Air conditioning
AM/FM radio
Gentle Ride suspension
Disc brakes
Widest and shortest ramp
Hitch with 2″ ball to tow your trailer or ours
Tie downs and Rub rails on all three walls
Power steering
Patented dual mirrors for high vision
Capacity
Volume: 1,611 cu. ft.
Floor space: 208 sq. ft.
Max load: 7,400 lbs.
Gross vehicle weight: 20,000 lbs. max.
Empty weight: 12,600 lbs.
Towing capacity: Up to 7,500 lbs.
Fuel
Unleaded fuel
Fuel tank capacity: 57 gal.
Miles per gallon: 10 mpg
All rental truck and trailer measurements are approximate. The equipment you receive may vary in size, based on the engineering/design specifications of multiple-production models.
The miles per gallon calculations are estimations for ideal driving circumstances. Many conditions can affect this number, including driving with a load, road grades, weather conditions and vehicle speed.