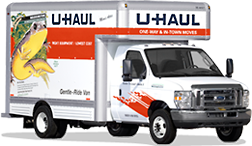 The second smallest box truck rental, our 15ft moving truck rentals, are great for 1-2 bedroom house and apartment moves. The 15ft truck rentals have cab seating for three, and have low loading decks which make loading 50 percent easier. Plus, all rental trucks have a ready-to-go towing package!
15 foot moving truck rentals are perfect for:
2 Bedroom apartments
Smaller houses
Towing a trailer
15ft truck rentals are perfect for apartment moves and even two bedroom household one-way moves. Individuals upgrading from a 1-2 bedroom apartment generally rent our 15ft moving truck as it has just the right amount of loading capacity. U-Haul offers truck rentals for both one-way and in-town for local moves, so get packing and let U-Haul help you move!
Our 15ft moving truck is equipped with a 2'2" wide loading ramp and a Mom's Attic for extra storage space and can load more than 6,100 lbs. (TIP: Many use Mom's Attic to store fragile items away from less fragile belongings.) The rental truck cabs are also set up with seating space for three adults, air conditioning, air bags and gentle-ride suspension. Other moving truck rental companies just don't compare. Rent a truck today – we make Moving Made Easier®.
Dimensions
Inside dimensions: 14'6″ x 7'8″ x 7'2″ (LxWxH)
Mom's Attic: 2'7″ x 7'8″ x 2'6″ (LxWxH)
Deck height: 2′ 10″
Door opening: 7'3″ x 6'5″ (WxH)
Loading ramp width: 2'2″
Features
Fuel economy gauge
Air bags
Seats 3 for adults
Automatic transmission
Air conditioning
AM/FM radio
Gentle-Ride suspension
Disc brakes
2'10" Low Deck
Hitch with 2″ ball accepts up to 2 5/16″
Tie downs
Rub rails
Capacity
Volume: 733 cu. ft.
Max load: 6,190 lbs.
Gross vehicle weight: 14,050 lbs. max.
Empty weight: 7,860 lbs.
Towing capacity: Up to 10,000 lbs.
Fuel
Unleaded fuel
Fuel tank capacity: 40 gal.
Miles per gallon: 10 mpg
All rental truck and trailer measurements are approximate. The equipment you receive may vary in size, based on the engineering/design specifications of multiple-production models.
The miles per gallon calculations are estimations for ideal driving circumstances. Many conditions can affect this number, including driving with a load, road grades, weather conditions and vehicle speed.