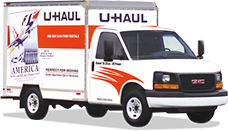 The 10ft moving trucks are perfect for studio and apartment moves as well as 1-2 bedroom moves. Our moving trucks have low loading decks which makes them 50 percent easier to load.
10ft moving truck rentals are perfect for:
Studio and apartment moves
College dorm moves
Equipment deliveries and shipping
The 10ft truck rental is perfect for studio or smaller apartment moves, it is also our most popular moving box truck. Students moving for college use this one way truck rental to their advantage as they are easy to drive and get great gas mileage. Whether you are moving from your parent's house into a dorm, transferring into a new apartment or even into your first house; the 10ft rental truck is a very regular choice for smaller-size moves.
Our 10ft truck rentals are equipped with gentle-ride suspension, rub rails for tie downs to keep belongings safely stowed and also offer great fuel economy. The moving trucks for rent have a fuel tank capacity of 31 gallons of with a fuel-efficient, V-8 motor. The loading deck is an amazingly low 2'5"off the ground and our 10ft moving truck is the smallest truck that also can tow a car. The 10ft moving truck is our smallest moving box truck but can still load more than 2,800 lbs!
Dimensions
Inside dimensions: 9'11" x 6'4″ x 6'2″ (LxWxH)
Deck height: 2'5″
Door opening: 5'11" x 5'7″ (WxH)
Loading ramp: None
Features
Fuel economy gauge
Driver's side Air Bag
Seats for 2 adults
Automatic transmission
Air conditioning
Gentle-Ride suspension
Disc brakes
29″ Low Deck
Fuel-efficient V-8
Hitch with 2″ ball
Tie downs
Rub rails
Capacity
Volume: 402 cu. ft.
Max load: 2,810 lbs.
Gross vehicle weight: 8,600 lbs. max.
Empty weight: 5,790 lbs.
Towing capacity: Up to 6,000 lbs.
Fuel
Unleaded fuel
Fuel tank capacity: 31 gal.
Miles per gallon: 12 mpg
All rental truck and trailer measurements are approximate. The equipment you receive may vary in size, based on the engineering/design specifications of multiple-production models.
The miles per gallon calculations are estimations for ideal driving circumstances. Many conditions can affect this number, including driving with a load, road grades, weather conditions and vehicle speed.